Local relationships, global knowledge
We are risk advisory professionals covering wide range of risks in financial industry. Our advisory approach is based on in-depth quantitative knowledge and analysis always aligned to key regulation and best industry standards.
Our international engagements are significantly broadening our knowledge base and market insights which is essential component of our advisory services. The international nature of our business model allows us to access best in class professionals in Europe and leverage of great intellectual capital in the industry.
We can offer the following services to the market.
Quantitative Risk

Climate &
Environmental Risk

Prudential Risk
& Regulation

Governance, Risk & Compliance (GRC)

Business Risk Services

Digital Risk
Quantitative Risk Services
Our quantitative risk team in Spain is an integral part of the fast growing international quant risk network. In our engagements we work directly with offices across Europe which provides us with huge flexibility and scale to support our clients.
The financial services industry is characterised by increasing complexity, whether that is investment products, credit offerings or regulatory requirements.
Financial institutions are critically dependent on accurate risk modelling to keep pace with this increasing complexity as 'data-driven' approaches affect institutions' business strategies, risks, operations and regulatory obligations.
Our Quant Risk Services offering includes:
Stress Testing & Forecasting, ICAAP, ILAAP, P2 Models
Data Analytics & Remediation
Data driven decision making represents one of the strongest trends in the industry
Our team long proven record of best in class data analytics, visualization and use for decision making
Data remediation and treatment for incomplete or inaccurate data is one of our key specialties
IRB, IFRS 9, CECL, [PD, LGD, EAD] IRRBB, CVA, FX, Op Risk
Our offering covers all risk areas, credit, market, operational and other risks
We are experts in end to end deliveries of IRB, IFRS9 models [PD, LGD, EAD]
Stress Testing & Forecasting, ICAAP, ILAAP, P2 Models
Modeling results integration into bank decision making represents a key component of bank risk management
Our in-depth understanding of data and modeling allows us to provide complex bank risk management and reporting frameworks
ESG, Climate & Environmental
Sustainability agenda represents one of the biggest challenges in quant risk over last few decades.
At the same time it is one of the most interesting areas where our team invests a lot of effort and resources in order to understand, quantify and integrate C&E risk into bank risk frameworks.
Digital Assets, Cybersecurity Risk, Machine Learning
We can provide support on identifying the main digital assets processes on the entity: workflows design, advise on how they should be managed and controlled.
Design framework for managing cyber security risk
Apply advanced approaches and methodologies and tools.
Valuations & Derivate Pricing
Our modelling and data experience has enabled us to provide all-encompassing support for wider risk management frameworks in banks including complex valuations.
We consider data and data quality to be the cornerstone of any successful project. This is why we approach data with the highest attention to detail, and use leading software, technology and methods for data collection, analysis and visualization.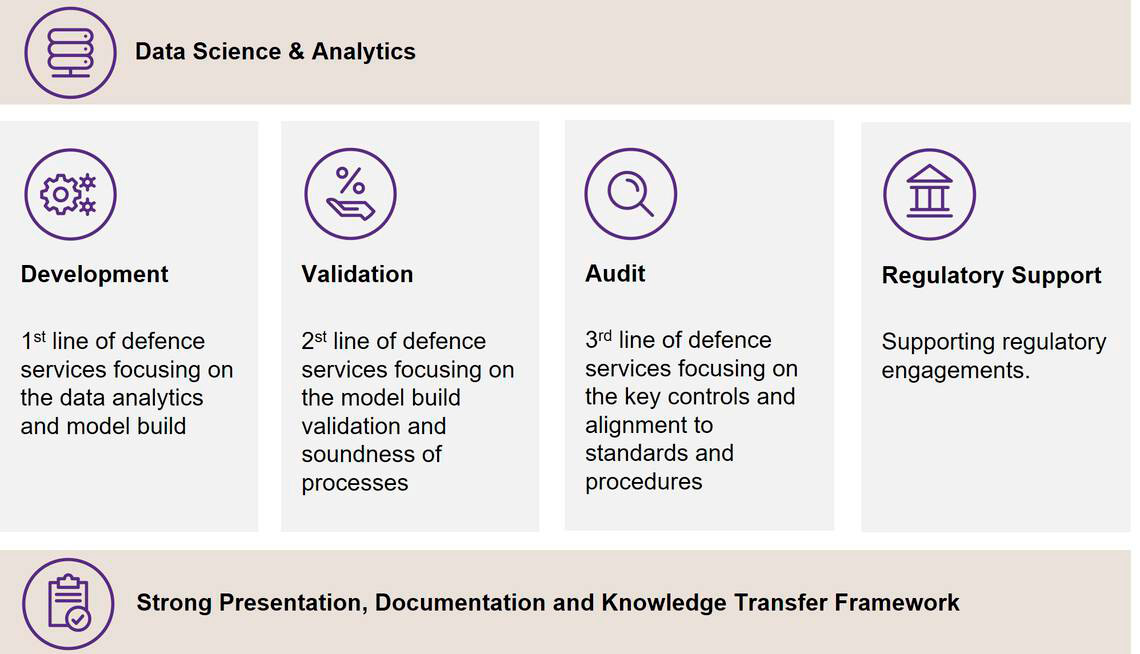 We provide our services across all lines of defense
We provide our services across all lines of defense
We provide expert insight into the appropriate model-build methodologies as well as relevant regulation. We understand the modelling process as a series of sub-processes with mutual dependencies, starting with the data preparation stage, model development and testing, model documentation and internal governance.
Model validation and audit
Our model validation and audit offering leverages our statistical model development and data analytics experience. This enables us to implement robust frameworks for the assessment of the qualitative and quantitative aspects of model design, development and performance oversight.
Our team is providing support for regulators within different areas of financial and banking risk.
The Quality of our work is guaranteed by the quality of our people
We employ the best professionals in on the entire European market and at the same time we are very proud of our internship and graduate programs that help us to raise the high profile professionals who are helping us to shape the banking industry worldwide.
Quant Risk Team Profile
Finance & Econometrics

We are passionate about our Research & Publications and proud to contribute to overall industry knowledge

Mathematics & Statistics

We master all coding languages R, R Shiny, Python, VBA, SQL, SAS …

Qualifications FRM, CFA

We enjoy building toolkits and off the shelf solutions

Bachelors, Masters & PHDs

• We appreciate honesty and transparency
• If you are quant risk enthusiast and reading this, please give us a shout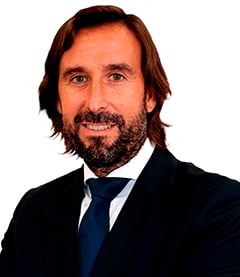 Get in touch
Risk & Analytics partner
Daniel Fernández Domínguez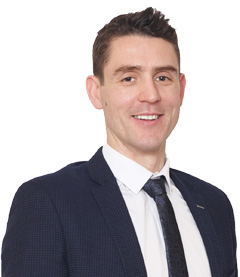 Get in touch
Partner – Financial Services Advisory