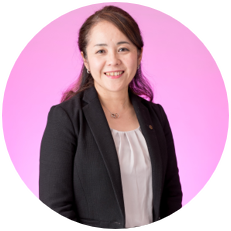 As the first woman promoted to audit partner in Grant Thornton Japan for 15 years, Ritsuko Watanabe is determined to drive a culture change in her country.
In your firm, what are the benefits you see from having teams with more gender diversity?
I believe more gender diversified team can achieve higher performance by providing wider views and/or perceptions. I am very proud to call myself a Grant Thornton partner. If I could tell you one thing, it would be: be yourself, be authentic, grab every chance you can to interact with colleagues around the network, they are great people and won't let you down.
I was honoured to become the first female audit partner in Grant Thornton Japan for over a decade. What amazed me was the support I have had from my own firm and from colleagues and role models around the network.
I worked in the UK firm from October 2013 to September 2017 and seeing such brilliant female role models there, not just becoming partners but leading their business, was truly inspirational.
How can businesses make a connection between diversity and their business goals?
Setting clear goals and KPIs for diversity and monitoring them can be one solution. For instance, our professional body (JICPA) has released goals and KPIs for diversity for the first time in its 70-year history. This in turn will help member accountants to understand the way to go and how to achieve diversity.
What do you believe holds women back from being recruited to senior management positions?
Less gender diversified management may not be proactive in promoting women, as they have no clue about the benefits to be gained from having more females in senior positions – and so they would hardly notice their subconscious bias. This is a particular issue in Japan: there are a number of studies showing that my country is one of the worst places for women to work.
How can routes to career development and advancement be opened up to more women?
Firstly by sharing the sense of urgency. While taking action for gender diversity is continuous work and takes a long time to achieve the goal, management has to realise that it is critical for the business to address this challenge. It takes strong leadership to address these challenges, and to make the organisation sustainable.
Secondly, it is about keeping balance between affirmative actions and fair treatment. Some may believe affirmative action leads to inequality. However, if we want to change the status quo, we have to take radical action; otherwise we will have to hand over the issue to the next generation (and we may not achieve gender diversified business before humans become extinct!).
It is important for everybody to own the challenges, rather than seeing them as problems for someone else. Actions taken have to be accepted by both men and women.
And lastly, we must encourage younger generations. The current social movement is helpful to promote more females into senior management positions, but it is also important to encourage younger generations to create successful career paths for themselves.
In your opinion, what does an inclusive business culture look like?
An inclusive business culture to me is when all members and stakeholders of the business can imagine that any of their family members could happily be a part of the organisation.
When I started my career at one of Japan's large accounting firms back in 2000, some members of senior management told me that they would like their sons to work for an accounting firm, but definitely not for their daughters. They believed that accounting was not a suitable job for women due to the nature of the work and the tough working environment.
Since then I have seen many positive changes towards gender diversity due to great efforts and investment by both women and men. Therefore I, 19 years later, can say our profession is open for everybody.
Read our Women in business report Return to Champions home page