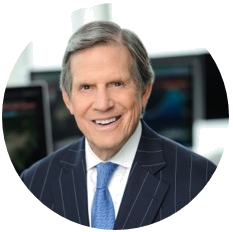 The numbers don't lie: the business case for gender diversity is plain to see, says Peter Grauer, chairman of Bloomberg and chair of the 30% Club.
What evidence is there that diverse teams lead to better business performance? And how can diversity data be used to drive a change in business culture?
Companies committed to gender inclusion create a more supportive workplace, which in turn fosters increased productivity and collaboration between employees with different backgrounds and perspectives. Ultimately, this sparks innovation and drives better business performance.
We've seen evidence of this through the Bloomberg Gender-Equality Index (GEI), which measures gender equality across internal company statistics, employee policies, external community support and engagement, and gender-conscious offerings. In 2019, the index recognised 230 firms for their dedication to advancing women in the workplace.
Over the past three years, since the launch of the Index, we have tracked the performance of GEI companies in the financial services industry against leading sector benchmarks from Dow Jones, FTSE and MSCI. Consistently, the GEI outperforms these indices, indicating the positive bottom line impact of gender equality.
Investors are taking note of this trend and, in response, are incorporating gender-related data in their investment decisions. Statistics around equality, as well as other environmental, social and governance (ESG) factors, give investors a more comprehensive view of a company's value, performance and reputation.
Companies are motivated to disclose their equality metrics and implement best practices for inclusion in order to drive capital investments. Commitment to gender equality is not only an ethical imperative, but also a best practice for business success.
What does an inclusive business culture look like?
An inclusive business culture is one that reflects the diversity of the communities the company serves. Inclusive firms are always looking to improve, whether by offering competitive benefits packages or reevaluating their own pay gap or opportunities for upward mobility for women. These are also the companies that build teams by leveraging the full talent pipeline of highly-qualified candidates, regardless of gender, race, sexual orientation or disability.
In the fierce global competition for talent, an inclusive culture is necessary for attracting the best candidates. Therefore, firms that demonstrate public commitments to equality, best-in-class policies and employee engagement will succeed in the market.
What leadership behaviours can drive inclusiveness?
Leadership shapes a company's culture, so executives need to set the example of inclusiveness from the top. This begins with increasing the representation of women in the boardroom, which is the goal of the 30% Club, an organisation I am proud to chair in the US. Beyond the boardroom, appointing more women to the C-suite and other senior leadership roles promotes a culture of inclusion throughout an organisation.
Company leadership also catalyses change by implementing inclusion initiatives such as unconscious-bias training or employee resource groups. But it's not enough to just implement these programs – executives and senior management should also be active participants. This is something I make a point of in my role at Bloomberg in order to demonstrate the commitment and involvement leadership team expects at all levels.
Read our Women in business report Return to Champions home page