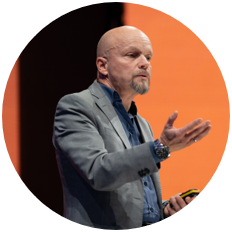 Roland Dansell, partner assurance at Grant Thornton Sweden tells the story of his firm's diversity journey.
Why is gender diversity so important?
83% of millennials say it's important their company build and foster an inclusive culture. My question to you is, are you prepared to take a risk when there's a war for talent going on out there?
Clients and prospects, they often ask questions about our gender diversity policy and our plans for the future. And so my question is, are you prepared to be deselected in future? Are you prepared to give some of your profit away?
In 2005, of our partners, 12% were women – and we are at 29% in 2018. Even better, after the partners meeting in June that year, we achieved 31%. During 2017, we were named the best employer of any company in Sweden. Our work to create a gender diversified firm was a very important driver for that.
But our journey doesn't stop here; we are not satisfied. In our business plan, we have a clear target that by 2021, Grant Thornton will be the first firm in Sweden with a gender diversified partnership –which means a minimum of 40% female partners
What did we do to get here?
Coaching has been a very important element, and we realised early in the process that female and male talent need a different kind of coaching. Females are normally very strong in leadership skills, but they need support to find a more narrow focus on their career; while male talent are very, very focused, but need support in improving their leadership skills. If you do the right coaching, they will both be more successful in their partner ambitions.
Coaching, partner programs, succession planning, flexible working, leadership skills evaluation system, reviewed process for recruitment of experienced hires – but all of this will not be enough if you want to be successful. There is something you need a lot of: you need action.
I will give you an example of action. Three years ago, one of our less gender diversified offices in Sweden, the six male partners were struggling to accept a clear target for the future, and a brave young manager from our people and culture department, she challenged them, and they said maybe it can be done by 2025 – but it will be difficult. I had a meeting with the partners and said we needed to come up with a better plan.
During that meeting, it was clear there were two talented young females in their office, one with the potential to become the next office managing partner. So, we decided to have a coaching program for them. Then I had a separate meeting with the office managing partner and two of the six partners whose performance was not that good. We decided to have one go to early retirement and one to leave the firm.
We also had a partner who was due to retire in a few years, but as he was a good corporate citizen, we could use him for the succession planning process. We found there was a skilled woman in the market who used to be a competitor partner, and we contacted her and she decided to join us.
In June 2018, that office had 50% male partners and 50% female partners. That's action.
Ensuring succes
What are the critical success factors? I think one is to be brave enough to set a clear target and communicate that target internally and externally to the market. You need a committed CEO. You also need to be prepared to invest on a long-term basis; this is not a quick fix. We created a clear and structured process where we involved the partners – you can't do this without support from your partners. We also had dedicated resources in the senior leadership team. Finally, you can never relax.
We often get the question, do you have different criteria for male and female applicants to become partners? Of course not. You must have equal criteria. But there is something else you must have – equal opportunities and equal support.
My question is, what are you waiting for?
Read our Women in business report Return to Champions home page